Chopin
the four impromptus
Spencer Myer
The Steinway Classics series continues with Chopin's four poetic impromptus in captivating performances by American pianist Spencer Myer.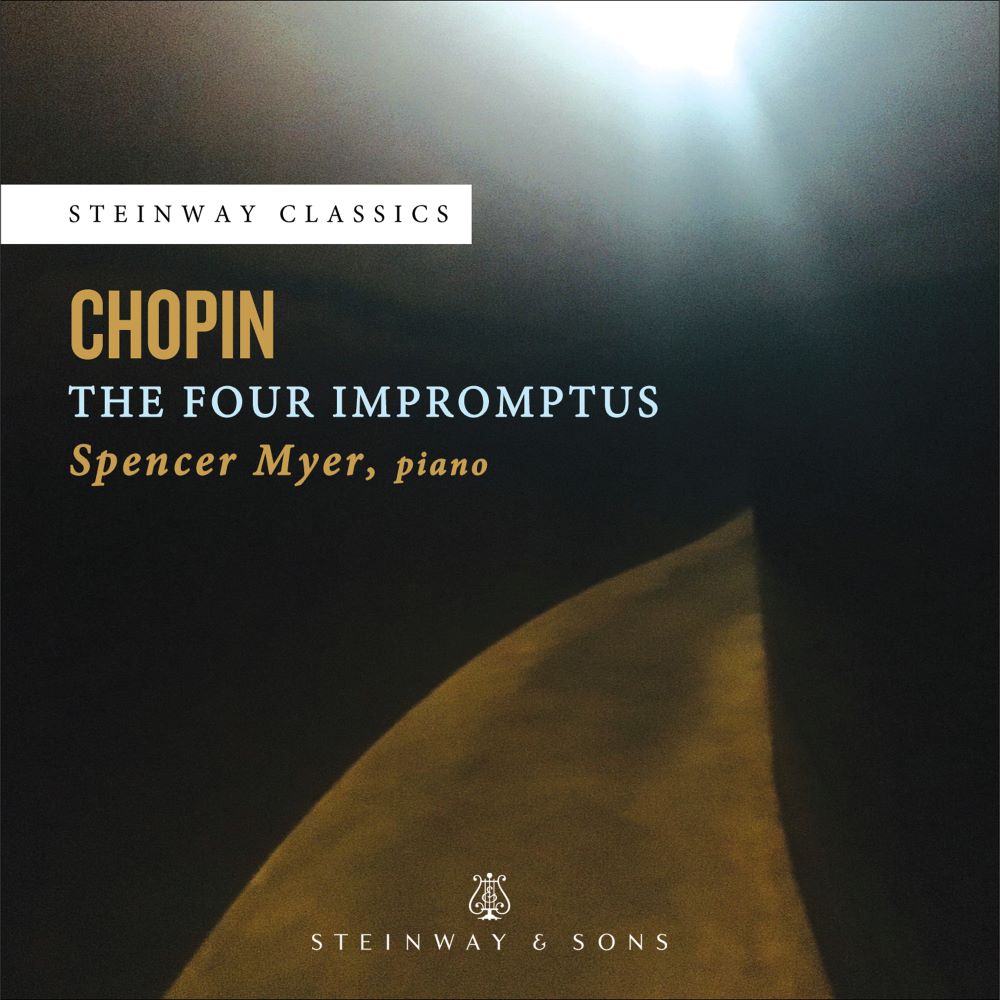 Spencer Myer is one of the most respected and sought-after artists on today's concert stage
"Spencer Myer's performance was commanding and vivacious from beginning to end."
Cleveland Classical
"Spencer Myer's playing is truly outstanding; his dynamics, phrasing, and use of rubato are all well considered, and he's sensitive to every compositional and structural detail."
American Record Guide
"With Myer displaying intelligent musicianship and excellent keyboard command... he gives the impression of playing music, not the piano; overall the concentration and keyboard imagination were exemplary."
The Washington Post
Album Credits
Chopin: Impromptus / Spencer Myer • STNS 30202
Release Date: 10/7/2022
Recorded July 20, 2021 at Steinway Hall, New York City.
Producer: Jon Feidner
Recording Engineer: Daniel Shores
Mastering: Daniel Shores
Editing: Kazumi Umeda

Executive Producer: Jon Feidner
Art Direction: Jackie Fugere
Design: Cover to Cover Design, Anilda Carrasquillo
Production Assistant: Renée Oakford
Piano Technician: John Veitch
Piano: Steinway Model D #607799 (New York)
Photo of Spencer Myer: Supatcha Rattanathumawat
About the Artist
Lauded for "superb playing" and "poised, alert musicianship" by the Boston Globe, and labeled "definitely a man to watch" by London's The Independent after his 2012 Wigmore Hall recital debut, American pianist Spencer Myer is one of the most respected and sought-after artists on today's concert stage.
Spencer Myer's orchestral, recital and chamber music performances have been heard throughout the United States, Canada, Europe, Africa and Asia. He has been soloist with, among many others, The Cleveland Orchestra, Boise, Dayton, Evansville, Louisiana and Rhode Island philharmonic orchestras, Pro Arte Chamber Orchestra of Boston, the Altoona, Baton Rouge, Bozeman, Canton, Chattanooga, Duluth Superior, Flagstaff, Grand Junction, Indianapolis, Juneau, Knoxville, Longmont, Macon, Missoula, New Haven, Phoenix, Ridgefield, San Juan, Santa Fe, Springfield (MA, MO, OH), Traverse, Tucson and Wyoming symphony orchestras, Indianapolis Chamber Orchestra, Ohio's ProMusica Chamber Orchestra, New York City's The Park Avenue Chamber Symphony, Mexico's Orquesta Filarmónica de Jalisco, South Africa's Cape Town and Johannesburg philharmonic orchestras and Beijing's China National Symphony Orchestra, collaborating with, among others, conductors David Bernard, Nicholas Cleobury, Kayoko Dan, David Danzmayr, Robert Franz, Neal Gittleman, Bernhard Gueller, Jacques Lacombe, Jahja Ling, Dirk Meyer, Elliot Moore, Timothy Muffitt, Maurice Peress, Kyle Wiley Pickett, Arthur Post, Kevin Rhodes, Lucas Richman, Matthew Savery, Alfred Savia, Klauspeter Seibel, Steven Smith, Gerald Steichen, Arjan Tien, Peter Stafford Wilson and Victor Yampolsky.
Spencer Myer's recital appearances have been presented in New York City's Weill Recital Hall, 92nd Street Y and Steinway Hall, Philadelphia's Kimmel Center and London's Wigmore Hall, while many of his performances have been broadcast on WQXR (New York City), WHYY (Philadelphia), WCLV (Cleveland) and WFMT (Chicago). An in-demand chamber musician, he has appeared at the Lev Aronson Legacy Festival in Dallas with cellists Lynn Harrell, Ralph Kirshbaum, Amit Peled, Tom Landschoot and Brian Thornton, and has enjoyed a recurring partnership with the Miami String Quartet at the Kent/Blossom Music Festival. Other artistic partners include clarinetist David Shifrin, sopranos Nicole Cabell, Martha Guth and Erin Wall, the Jupiter and Pacifica string quartets and the Dorian Wind Quintet.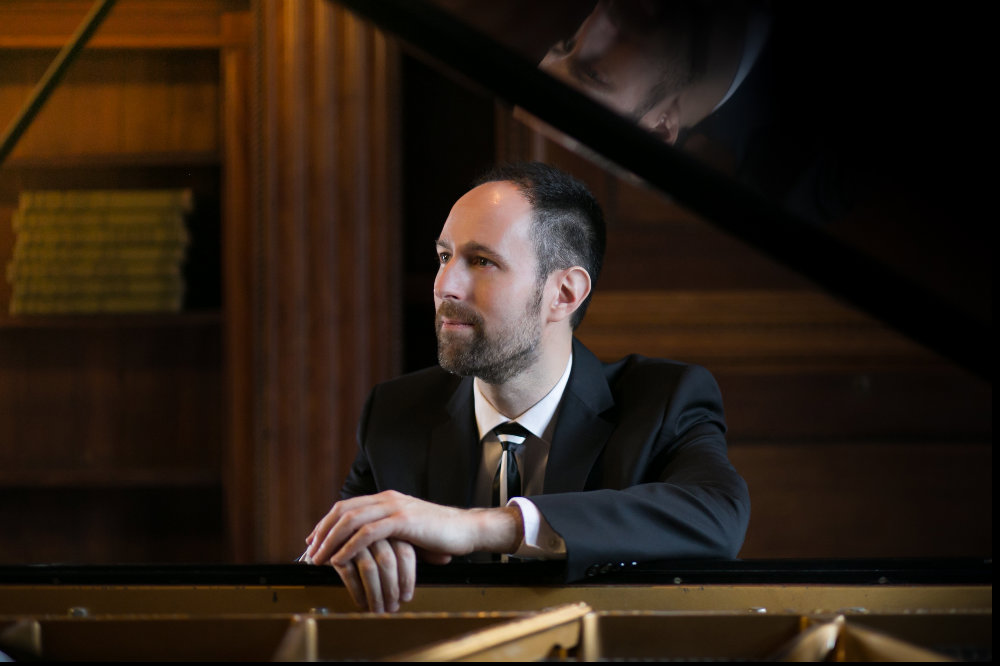 Spencer Myer's career was launched with three important prizes: First Prize in the 2004 UNISA International Piano Competition in South Africa, the 2006 Christel DeHaan Classical Fellowship from the American Pianists Association and the Gold Medal from the 2008 New Orleans International Piano Competition. He was a member of Astral Artists' performance roster from 2003-2010.
An enthusiastic supporter of the education of young musicians, Spencer Myer has served as a guest faculty at the Oberlin and Baldwin-Wallace Conservatories of Music, and was a member of the piano faculty at Boston's Longy School of Music of Bard College from 2016 to 2022. He is currently Associate Professor of Piano at the Indiana University Jacobs School of Music.
Spencer Myer's debut CD for harmonia mundi usa - solo music of Busoni, Copland, Debussy and Kohs - was released in the fall of 2007 to critical acclaim by Fanfare and Gramophone magazines. He can also be heard on a composer-conducted Naxos CD in performances of three concerti from Huang Ruo's Chamber Concerto Cycle and in a performance of Ravel's Chansons madecasses, included on "Intimate Masterpieces," a 2013 CD featuring faculty and alumni of the Oberlin Conservatory and issued by Oberlin Music. Mr. Myer has released four previous recordings on the Steinway & Sons label: Piano Rags of William Bolcom, and three albums with cellist Brian Thornton encompassing repertoire of Brahms, Debussy and Schumann.
Spencer Myer is a Steinway Artist.
About Steinway & Sons label
The STEINWAY & SONS music label produces exceptional albums of solo piano music across all genres. The label — a division of STEINWAY & SONS, maker of the world's finest pianos — is a perfect vessel for producing the finest quality recordings by some of the most talented pianists in the world.